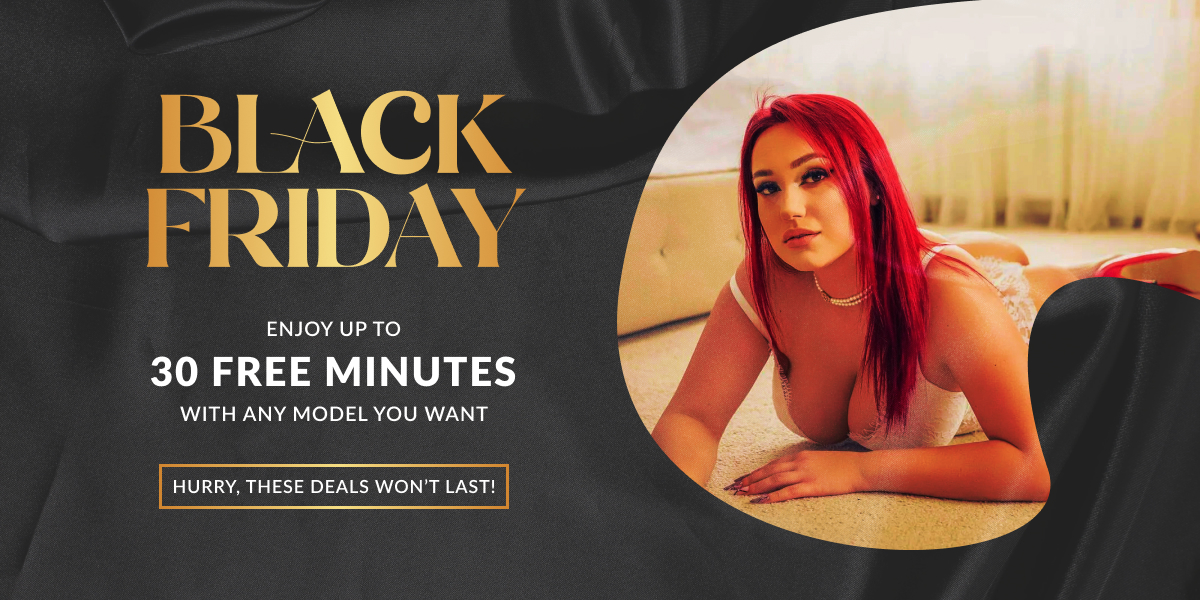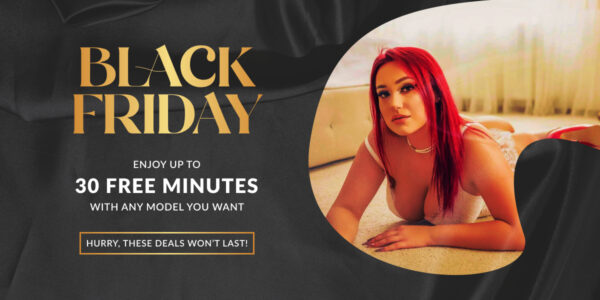 Our Black Friday 2023 Campaign Is Over!
See you next year with an even more exciting offer!
Description
This Black Friday get up to 30 FREE MINUTES and use them with ANY Model you want.
1️⃣Opt-in for this Black Friday offer down below⬇️
2️⃣Top up at least $200 to your SkyPrivate account between 24-26 Nov.
3️⃣Enjoy🔥 up to 30 free minutes for every $200 you've topped up
You don't want to miss THIS… Learn more and sign up!👇🏻
Period
From November 24, 2023 to November 26, 2023.
Black Friday Deal
To celebrate Black Friday we are giving away up to 30 FREE MINUTES.
How it works
In order to be eligible for this promotion, you need to: click here
Top Up your account with a minimum of $200 during the promo period.

Opt-in for the campaign with your SkyPrivate account email.
Get up to 30 FREE MINUTES for every $200 you top up during this period.
Opt in here
Don't forget to opt-in during the stated promotion period and to use your SkyPrivate account email for this.
General Terms and Conditions
In order to read other important info about this campaign click here
Only SkyPrivate Members, with active accounts, will be eligible for this offer;
Only Members that opt-in for the campaign with the same email addresses they use on their SkyPrivate accounts will receive this offer;
It is considered that, by opting in for this campaign, the Members will have already reviewed, accepted, and agreed to all our Terms and Conditions;
The Members who will try to create fake accounts or to duplicate accounts or who will raise any suspicions of fraudulent activity regarding the usage of the vouchers, will not be taken into consideration for the voucher and will get disqualified from the offer;
The period of this campaign is from Nov 24, 2023 to Nov 26, 2023, UTC +1;
Members will receive the free minutes in the form of $30 vouchers. A $30 voucher can be the equivalent of 30 free minutes if the Member chooses to spend it with a Model that charges $1 per min. Or, for example, it can be the equivalent of 15 free minutes if he chooses to spend it with a Model that charges $2 per min. It depends entirely on the Member's selection of Models.
If a member already topped up 200$ and received a voucher, then decide to request a refund, only the price difference will be refunded.
Members will receive the vouchers they will have won by the end of Dec 2023.
The winners will be contacted via email or support channel to receive/claim their vouchers
The vouchers will be valid until the 30th of January 2024.
Every voucher will have a unique code that the SkyPrivate team will send to the winners via private channels, email, or chat support. The winning Members will use those codes to add the value of their vouchers to their own SkyPrivate balances.
The sole organizer of this campaign is skyprivate.com;
The organizer can change the Terms and Conditions or cancel this campaign at any time without any prior notification.