It's a small piece of software running on Microsoft Windows or Apple Mac OS that connects to Skype.
It doesn't consume many hardware resources and sits quietly in a corner until needed.
Models registered with SkyPrivate to track incoming callers and charge for live pay per minute shows.
It allows models to charge for live pay per minute shows with SkyPrivate members.
It shows if incoming calls are from SkyPrivate members and if they have enough funds to make a call.
During a call, it tracks your earnings and time spent in a call, thus charging the member.
Upon each launch, it provides the opportunity to record a 6s video to display on your public profile.
You can download it and use it only if you have a SkyPrivate account. Register now!
Verifying incoming callers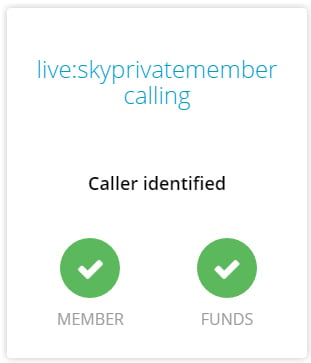 When you have an incoming call on Skype the plugin will pop up as a small white window without any other controls in the bottom right corner of your screen.
It will tell you if the caller is a member and if it has enough funds to call you.
Answering calls from Skype users that are not SkyPrivate members or do not have enough funds to call will not bring you any earnings.
If you see the following signs instead of the green discs with white checkmarks in them it means that the caller is not a member or doesn't have enough funds for a call.


Charging pay per minute live shows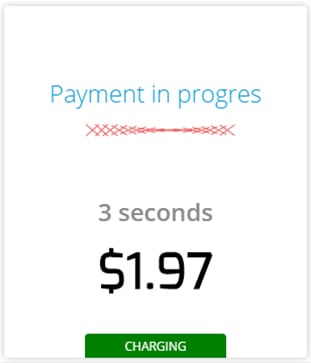 Once you accept the call (after you validated that the caller is a member and has unds, with the help of the plugin) the plugin will begin charging.
Let's say your pay per minute rate, set in in Accounts > Settings > Calls is set at $1.97 / min.
In the first minute of the call the plugin will display that you charged $1.97 .
The second minute > $3.94.
The third minute > $5.93
And so on.
Charging is done by the minute and each minute is charged in advance, when it starts, at second 0.
Recording the 6 seconds video avatar
Each time you open the plugin you are invited to record and update your video avatar. You can also trigger this from the contextual menu of our application.
Recording the 6 seconds video avatar for your public profile is easy:
If you have a Windows tablet or more than one webcam, you will have the opportunity to select the webcam you plan to use
The video recording starts with a 3 seconds delay, to allow you to get in the right position
Once the 6 seconds elapsed you have the option to review the video, create another one or post it to your profile.
No further action is needed on your side to have it published.
If you don't like it you can always come back and do another video.
The last video you create and post will be the one that is published.
All previous videos are being erased.
Can members record the shows ?
That is a possibility, indeed. But this is something that they can do on other camming sites as well, using specific software.
Unfortunately, we cannot guarantee that your show will not be recorded by a member.
Working in this industry and offering live cam shows exposes you to such possibilities.
Can members see me when I'm not in a call ?
No, they only have access to your webcam during a call, if you use the video call feature of Skype.
Outside of this scenario, they cannot see what you do or if you have other calls with other members.
Will SkyPrivate use the plugin to spy on my calls?
No. That is not our purpose. The only things we are tracking are:
incoming callers – so we can properly id the members of SkyPrivate when they call and confirm their membership and sufficiency of funds
time spend on a call with a SkyPrivate member – to allow you to charge them
When you choose to record a new 6s video avatar we also gain access to your webcam.
Outside of these situations, the plugin does not record your text chats, audio and/or video calls or your webcam or screen.
The plugin doesn't have the SkyPrivate logo. Is that safe?
Yes, it is totally safe. SkyPrivate is using in fact the PayPerMinute.live plugin to offer your its services.
The Pay Per Minute technology is used by other services and websites, beyond the adult industry.
If you want to find out more about it visit  the payperminute.live website.