SkyPrivate Tease and Treat Party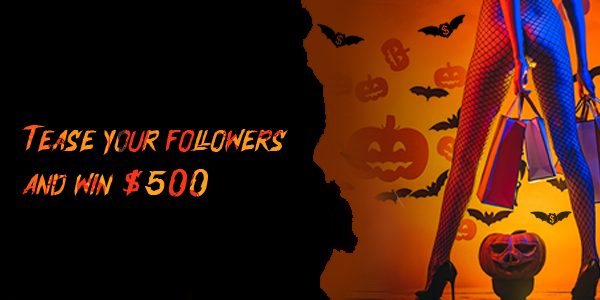 Description
This Halloween we have a new challenge for you: Tease & Treat.
You can win yourself $500.
The idea is simple: just post a picture of you in a Halloween costume on Twitter with the hashtags #SkyPrivateTeaseAndTreat and #Halloween.
So, are you up for this challenge? Then, what are you waiting for?
Period
From October 25, 2021 to October 31, 2021.
Goal
Reward the best Halloween costumes.
Prizes
To celebrate Halloween we are giving away $5000 to the best Halloween costumes as follows:
10 costumes will be selected and rewarded with $500 each
How it works
In order to be eligible for the contest, you need to: click here
Post at least one photograph of yourself in a Halloween costume on your Twitter page using the hashtags

#SkyPrivateTeaseAndTreat and #Halloween

Include your SkyPrivate profile link, too, in your tweet(s).

Replace your current SkyPrivate profile picture with one of you dressed up for Halloween, keep it throughout the campaign period, and add

halloweentease to your SkyPrivate tags, as well.

Opt-in for the campaign with your SkyPrivate account email.
Enter the contest
Don't forget to opt-in for the contest during the stated contest period and to use your SkyPrivate account email for this.
Feel free to post your Halloween pics on any other social media channel you want, as well.

At the end of the contest, the winners will be drawn using Random.org and contacted by our support team to receive their prizes.
The more tweets of you sporting different spooky-steamy looks, the more chances you have to win yourself a $500 Halloween treat
Enter your email to Opt In
General Terms and Conditions
In order to read other important info about this campaign click here
Only Models from SkyPrivate, with a public profile, will be eligible for this contest;

Only Models that opt-in for the campaign with the same email addresses they use on their SkyPrivate accounts are allowed to participate in the contest;

Eligible for the prizes will be just the Models with at least 100 Twitter followers

It is considered that, by opting in for this campaign, the Models will have already reviewed, accepted, and agreed to all our Terms and Conditions; 

The Models who will try to create fake accounts or to duplicate accounts or who will raise suspicions of fraudulent activity regarding the usage of the vouchers, will not be taken into consideration for the voucher and will get disqualified from the contest; 

The Model will receive the prize that she will have won until the end of November 2021;

The sole organizer of this campaign is skyprivate.com;

The organizer can change the Terms and Conditions or cancel this campaign at any time without any prior notification.
Winners
To see the winners click here. (available after the contest has ended)
Profile Name
LauraRogers – Im the CEO of seduction
MeganRoss
Goddess Helen
Lilith Goddess
MissNina
VeraVonQueen
NathallyieLuv
Kateray
NikkiPresents
Aspen Addiction